This chapter introduces you to Tiksoo and provides a broad view of what tools you will have access to. This chapter contains the following sections:
What Tiksoo does and how it works
What you'll see when you first Sign in
Phone Monitoring tab
Settings and Billing
What Tiksoo does and how it works
Tiksoo is a service that will notify you if your phone number ever fails. Tiksoo will call your phone number at a pre-determined interval that has been specified by you.
This frequency can range from 1 call every minute up to 1 call every hour.
The process can be broken down into three simple steps:
Conditioning.
Monitoring.
Alerting.
After you have set up your phone number(s) to be monitored we will immediately begin the conditioning phase in which we make 3 calls in order to get a good "baseline recording". (This is a snippet of your Auto Attendant/IVR recording that your customers hear when they call you.)
Next is the monitoring phase, this is where we will continue to make brief calls to your number(s) during the days and times that you specify, these calls (typically about 5 seconds long) will be recorded and compared to the baseline results that were obtained during the conditioning phase.
Last is the alerting phase. If any of our calls do not record that exact same audio as we are expecting to hear, this means that something is wrong with your number and we will immediately notify you of this via email and/or text.
What you'll see when you first Sign in
When you sign in you will be presented with a summarized view of the most relevant information regarding the status of your phone numbers. This is called the "Live Dashboard" and is covered in detail in section 7.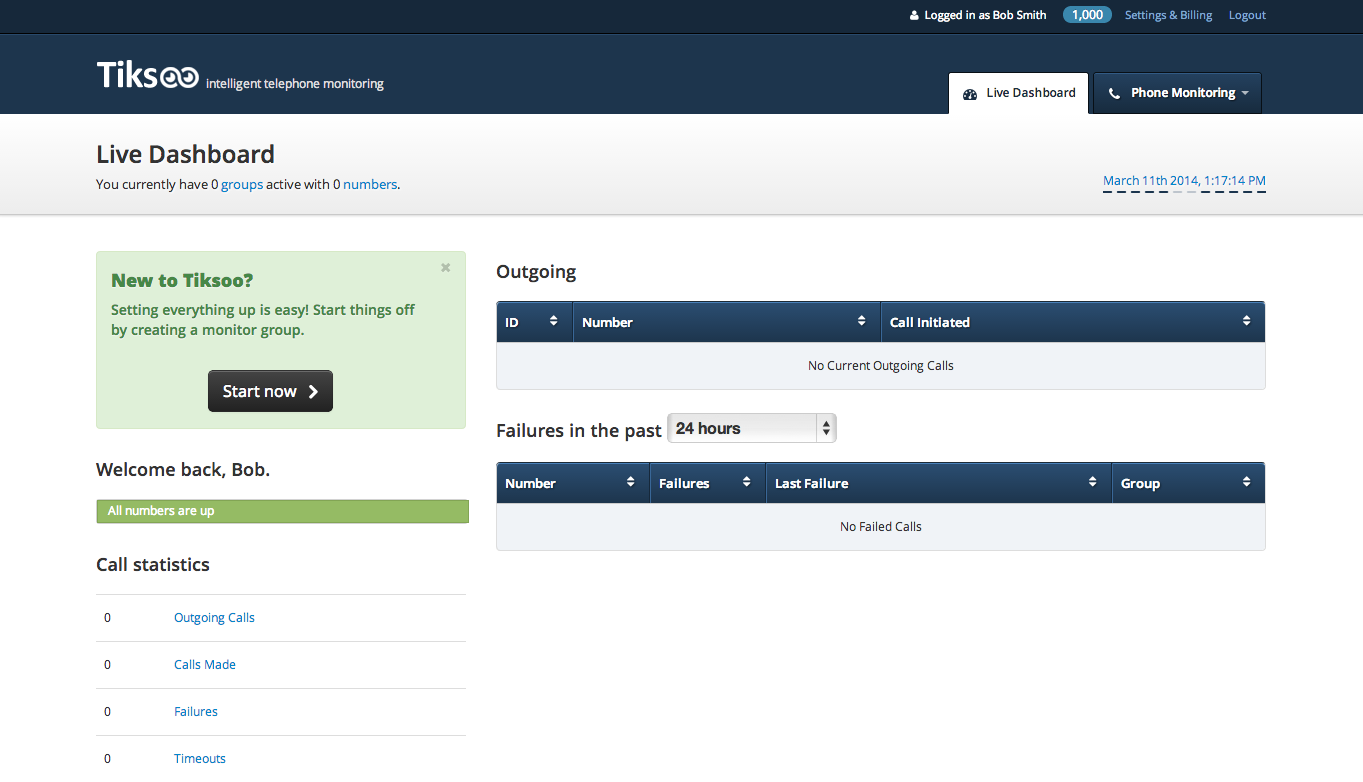 Phone Monitoring tab
The "Phone Monitoring" tab is your main menu that you will use when setting up phone numbers to be monitored, initiating "Run Now" jobs, managing contacts and schedules as well as looking at your call statistics. (All of these features will be covered in detail throughout this user manual)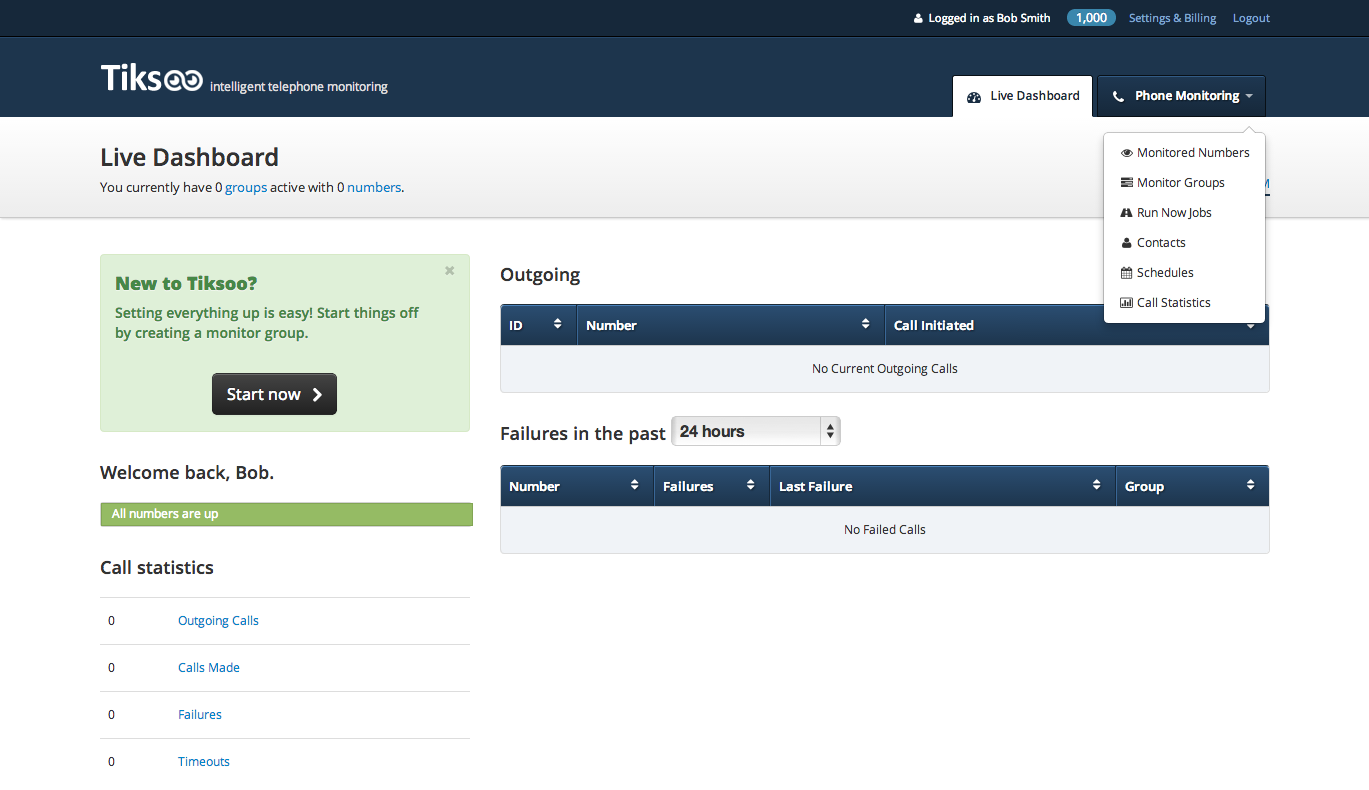 Settings and Billing
This is where you change basic information in your profile such as your name, email address, Password.
You can also change global settings such as your default Time Zone.
You can create additional user accounts. (i.e. for your supervisors, Auditors, Managers, etc...)
Enter credit card information and configure your billing options.
Access your purchasing history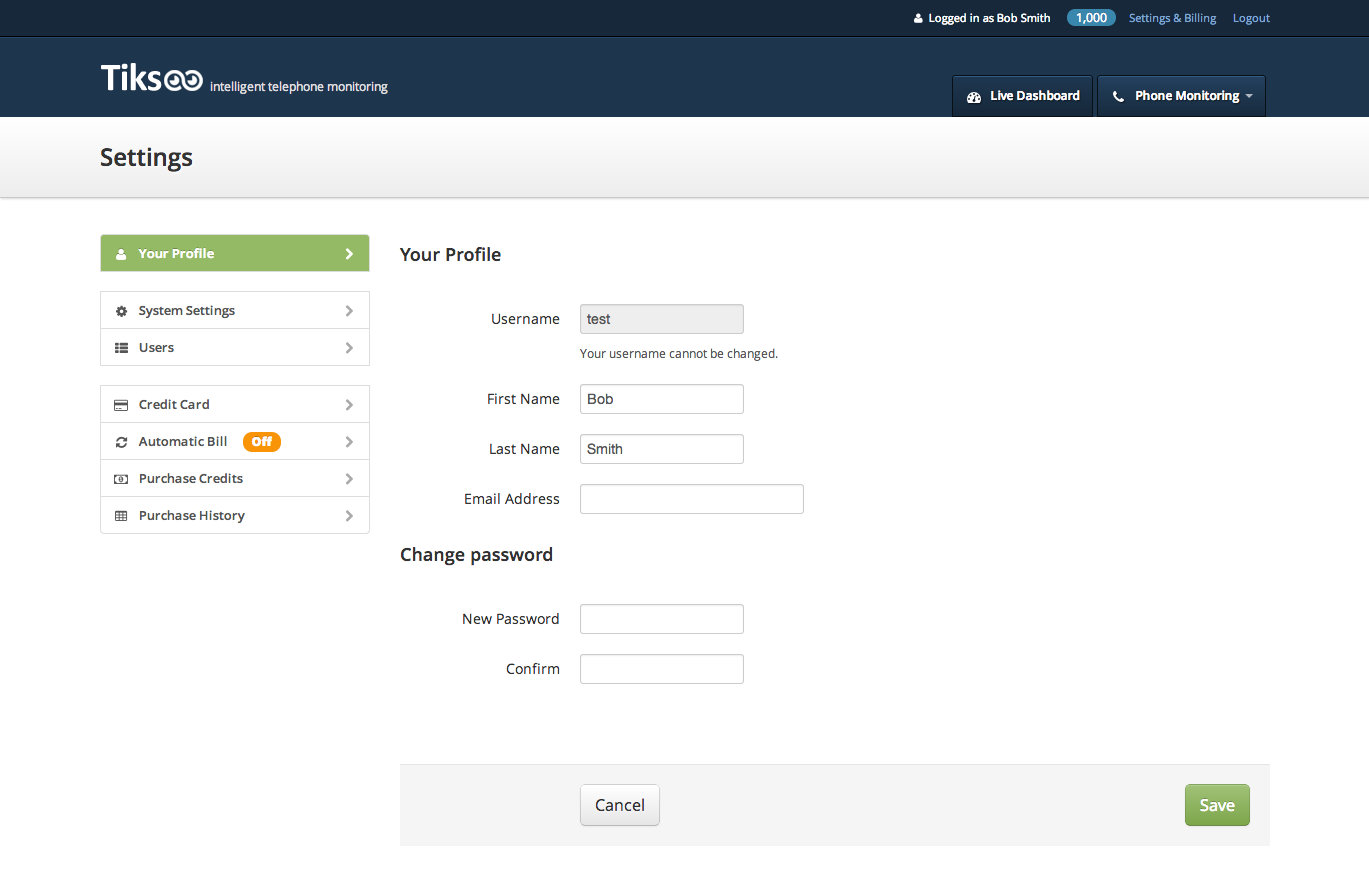 Scroll